A question that we all have as home cooks – do I need special cookware for my glass top stove? What if my cookware ruins my precious glass top?
When I come across such questions, my only answer is- 'yes you do need special cookware' – which is just valid and reasonable. 
Like all of us have different cooking styles and preferences, similarly, our stoves do look for something more compatible to offer a seamless cooking experience.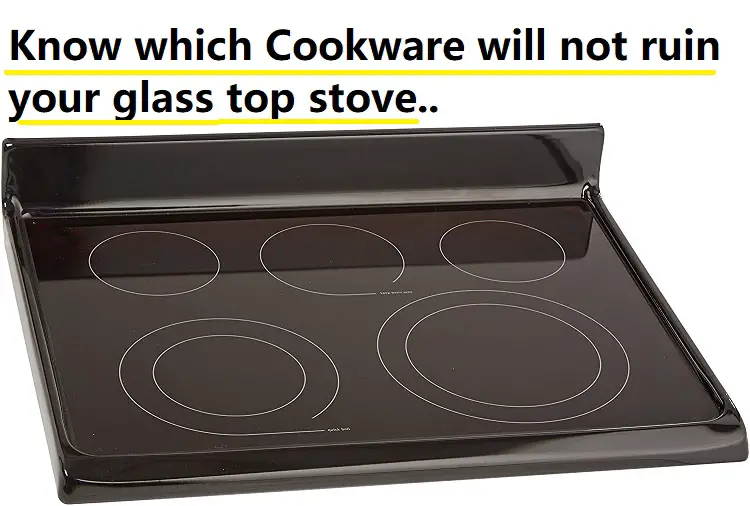 Let's first see what is the definition of special cookware.
Special cookware does not mean to be extraordinarily designed or expensive but, the ones that are designed to suit that particular stovetop. It will help to offer a smooth, trouble-free cooking experience. 
It's so obvious, that when cooking on an appealing and shiny glass stovetop, not just any type of cookware will work. One wrong choice and may cause inappropriate cooking or easy scratching.
All these reasons make few materials perfect and some unsuitable for glass stoves. So let's dig into How we can pick compatible cookware for glass stoves?
Material type –
The materials like cast iron, stoneware, glass, or ceramic cookware do not work well on the glass top of stoves. These materials are usually rough which, can cause scratches even with the slightest drag across the smooth surface of a glass stove. 
Cast iron is used ideally in cookware, but it takes a little longer to heat up and then retain heat for a longer duration. This heat retention in the case of a glass stove can cause overheating of the cooking surface. 
To its converse, the ideal cookware material for a glass stovetop is stainless steel. It is the most popular and durable metal. It is also heard-wearing and has enough weight to keep it stable over the stove. 
The chances of damage or scratch to the delicate glass surface are minimal with stainless steel cookware. Along with this, the shiny surface also gives an appealing look to the cookware. 
Other than stainless steel aluminum, and copper is also compatible and popularly used with glass stoves. They have got wonderful heat conduction capability. 
However, these metals are known to leave metal residue on the cooking surface these are best to use with stainless steel exterior and core metal layer. The combination of these metals with stainless steel makes them superiorly compatible with glass stoves. 
Weight of cookware –
The weight of cookware plays an important role when picking compatible cookware for a delicate glass top stove. 
The reason is very obvious heavyweight pans, with food increase the chances of damage or scratches to the cooking surface. Therefore, when looking for cookware for a glass stove, always go for lightweight cookware. 
Still, choosing lightweight cookware won't end the chances of damage but may minimize it. You need to be very careful and should avoid dragging the pan with or without food. Prevent dropping cookware on the glass surface. 
Handles of cookware –
Handles also play an essential role in describing the compatibility, this is what I have learned from my experience of using and choosing cookware for glass stoves. 
As we know dragging, or dropping the pan may cause damage to a cooking surface, having got handles with a grip can reduce the chances to 70%. Yes, you got me right. It is proven by a survey that took the review of a few hundred home cooks on, how it affected their cooking experience.
Ideal cookware must have sturdy handles. Loop handles alone or along are a blessing. 
Here are few recommendations based on my personal experience with this cookware.
1. All-Clad Copper Core 5-Ply Cookware Set –
It is a seven-piece cookware set that includes a 10-inch fry pan, two-quarts covered saucepans, a three-quart covered sauté pan, and an eight quart covered stockpot. If you are starting your journey as a home cook, then this could be the best choice for you. 
This set of cookware is made, of 5 layers of bonded construction of aluminum and stainless steel with a thick copper core. The copper core helps in better and even conduction of heat. 
The stainless steel interior is well polished which, offers stick resistance and prevention from the food-metal reaction. 
2. Cuisinart MultiClad Pro Stainless Open Skillet 10-Inch–
Cuisinart stainless steel cookware is popularly used, in households and I remember my aunt who owns a complete set of cookware from Cuisinart. 
This cookware range is made, of triple-layer stainless steel and aluminum. It comes with a shiny interior and matte exterior which, offers less sticking of food. The pan is lightweight with a sturdy handle to prevent dropping or hand burns. 
The rims of the pan are tapered and made smooth. It is also dishwasher safe and can withstand oven temperature up to 550 degrees F. 
The best part is it is highly compatible with a glass top stove, and its appealing design makes it worthy for the modern kitchen. 
3. Calphalon Classic Nonstick 10 Piece Cookware Set –
It is the set of most adorable cookware one could own. This classic nonstick cookware set is ideal for a glass stovetop. 
It is free from PFOA and consists of a two-layer nonstick covering which makes, cooking and cleaning effortless. The pans have got long stainless steel handles with an easy cooling design. The handles are sturdy with a good grip
The pans also come with tempered glass lids, which enhances their versatility. This cookware set comprises 10 pieces including frypan, saucepan, sauté pan, and stockpot with lids.