I am always cautious while buying a skillet for my glass top stove as scratches are the last thing, I would want on them.
Also, poor quality skillets are hard to identify. You can only know if the skillet is compatible with your glass top stove or not after months of usage.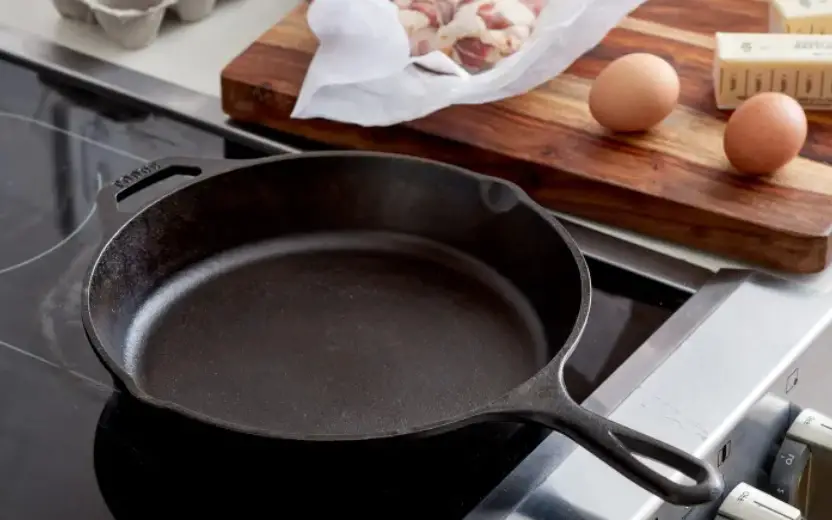 Trust me, I have suffered a lot. I once bought a nonstick skillet that over time loses its smooth bottom and continues to become undulated resulting in bad scratches on my stove. Not to mention it is always dancing while I cook. Frustrating! 
Over the years, after wasting so much money on finding the best skillet for a glass top stove I finally found the best picks. I own the top 3 skillets, so I can vouch for them. The rest are recommended by my friends who are using these skillets on their glass top stoves.
Calphalon Signature: Hard-Anodized 10 inch Nonstick Pan
The Calphalon signature 10-inch nonstick pan is made with heavy-gauge hard-anodized aluminum. Although it is a frying pan, the sides are quite high so this easily replicates a skillet. Let's talk about the material first.
I saw my mum using an aluminum pan every morning while making breakfast for us. So I thought to consider her opinion. She has been using anodized aluminum ware for many years, and her experience was very concrete, so I decided to move forward with it.
It was probably the best decision I made for many reasons. First, anodized aluminum is safer than aluminum that is reactive to acidic food. Also, anodized aluminum is heavier than aluminum pans hence good for a glass top stove where it sits firmly and don't move much.
I will be lying if I say that you can cook with one hand. No matter how compatible a skillet is with your glass stove, occasionally you really need to use the other hand for supporting it.
But pan like this is less likely to move from its position. I would give it a five star for its cooking performance. It is made with a three-layer nonstick coating free from PFOA, making it safe to use.
The pan is a little heavier as compared to stainless steel or the usual nonstick pan. The best part is it does not move or slide out from my glass top due to its weight. The pan thickness allows it to retain heat for a long time, making the cooking process easy.
The pans with nonstick coating do not usually withstand high temperatures, but this one is compatible with the oven for up to 500 degrees F so, you can lazily move from the stove.
The pan is said compatible with metal utensils, but I went with my mum's tip. I never use any metal spatula, and I will also recommend avoiding using metal utensils with any nonstick coated cookware. 
The handle comes with easy cooling, so it does not hinder the cooking process. It might feel a little expensive, but the cooking experience with this pan is worth it.
AVACRAFT 10 inch Stainless Steel Skillet With Lid 
I added a stainless steel skillet to my kitchen because nonstick-coated ones get scratched after regular use even if you avoid cooking with metal utensils. That's a true fact. I wanted a skillet that can endure my daily wear and tear and this 10-inch skillet from AVACRAFT is surely the one.
The best part about this skillet is it comes with an attractive design and a glass lid which makes it so precious for home cooks like me. The glass lid is strong and heavy, which makes it very efficient. I have been using it for two years it still looks new.
This skillet material is a little different from others, you will notice a matte finish on the interior to prevent scratches, and the outer surface gives a sparkling mirror finish.
The pan comes with a three-layer design encompassing aluminum, making it a little heavy and better at heat conduction (far better than skillets made of stainless steel only). Don't worry if you are concerned about stir-frying; the long stainless steel handle is strong enough to handle its weight.
I have always been very fond of stainless steel cookware as it is easy to cook, clean, and maintain. Just a simple vinegar-soda wash, and it is new again.
EOE Nonstick Fry Skillet For Gas Stove 
I bought this because I wanted a bigger skillet that can be used on induction too. Made out of hard-anodized aluminum EOE 12 inch skillet soon become my love. I never had anything from EOE before this.
As, I was using the Calphalon, I knew hard-anodized is safe to use on high heat. This one comes with an ultra-durable five-layer coating. These layers make it heat faster and last longer. Its depth is perfect, not too deep, so you can use it for making soup, frying, shallow frying, etc.
The steel handle is easy to cool. It prevents hand burn or sliding of the pan. The material is free from all kinds of toxic coating like PFOA, PFAS, APEO, etc.
The best part is it takes no effort on maintenance. The nonstick coating does not allow the food to stick, so no worries about cleaning. The price of this pan is too reasonable when compared with its features. You can opt for this one for rigorous use.   
This pan is oven safe up to 500 degrees F and also dishwasher safe. But my recommendation is to avoid using a dishwasher as I never put my pans in the dishwasher. First, let it cool down and then wash with soapy water and a sponge. The durability of any cookware is defined, by its maintenance. The better you take care of them more they will flourish.  
Other skillets that I recommend
Cuisinart 622-30G Chef's Classic Nonstick Hard-Anodized Skillet
The Cuisinart skillet is again made, with hard anodized material, which is the best one as modern cookware. I recommend this based on its material which I have been using for years.
It comes with a tight-fitting glass lid and a long steel handle. The handle is easy to cool. The heavy base of anodized aluminum offers uniform heat conduction. The size is perfect for a small family meal.
Rachael Ray Bright's Nonstick Frying Pan
Rachael Ray Bright's cookware is popular for its stylish finish, attractive designs, and colors. It is made, with a safe nonstick coating and food grade.
It is good to go with if you prefer the bold color and design. The pan is lightweight and durable. The size of the pan is large than usual, offering more cooking surface. Avoid using metal utensils and spatula.
Stone Earth Frying Pan by Ozeri
It is another stylish pan with a German stone-derived coating. The interior is nonstick, with 100% safe coating.
The heavy gauge material offers a heavy base making it more stable. The heat conduction is very rapid, which eases the cooking process. The handle is silicone coated, which offers a tight & secure grip.
Features to look for in a skillet compatible for glass top stove 
Heavy Base – Always go for a heavy base skillet as it will offer stability over the glass top stove and offer good heat retention and conduction.
Easy cooling handle – Being a flat-surfaced stove, there are chances that your pan might slip from a slighter push, so a handle with easy cooling and good grip is very essential.
Skillet with lid – A skillet is a lid that is always a great option. It will help in enhancing the versatility so you can use it for different cooking styles.
Non-toxic nonstick coating – If you are a nonstick person, don't forget to check on the safe coating. Your skillet coating must be PFOA and other chemicals-free.
Avoid too heavy cookware – Too heavy cookware can damage your glass top upon falling. Use a skillet with a considerable weight that will provide stability.
Cautions to use while using a skillet on a glass top stove
Pan Movement – Be cautious while moving the pan. Hold the pan firmly and move slowly. If fallen it may leave scratches on your glass top.
Avoid Spilling – If anything spills on the stovetop, clean it immediately with a damp cloth, or it will burn the spilled food very fast. The burned food will take efforts to clean later.
Keep it clean – You will require a little more effort for stovetop maintenance. Always keep it clean to avoid grease or food deposits that are hard to clean.
Don't use sharp objects – Avoid using any sharp object to remove the burnt or spilled food stains it will leave forever scratches.