There are few brands like Tupperware which, offers food-grade, dishwasher-safe, microwavable plastic containers. And many of us home cooks own at least a few of these. Now if you have an air fryer at home, you might wonder whether you can put this plastic bowl inside your air fryer or not?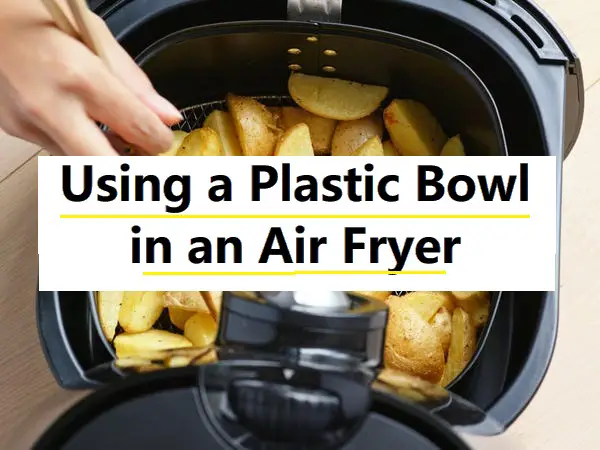 First of all, normal plastic bowls which are not food grade and microwave-safe must be avoided in an air fryer. Second, microwave-safe plastic bowls have higher chances of not getting melted in an air fryer however there is no guarantee. My advice would be to avoid putting plastic in an air fryer always to keep your machine safe and in perfect working condition. Why take a chance and ruin a good thing right?
Why Using Microwave-safe Plastic in the Air fryer can be Risky?
There are people around who say that microwaveable plastics can be used but the fact is they are also prone to melting.
Both air fryer and microwave works on a different principle. The microwave makes the water molecules in the food vibrate and generate heat that cooks the food. While air fryer works by making use of a heating element and a high-speed fan that circulates the hot air in the air fryer. The temperature inside the air fryer can reach up to 400 degrees F.
Even if you are using it at a low temperature, the plastic will start leaching harmful chemicals into the food which, is very unhealthy.
Thus it is better you strictly avoid using any plastic container or bowl inside the air fryer. 
What might happen if you put a plastic bowl in an air fryer? 
Air fryers make use of highly heated air (up to 200 degrees Celsius) circulating and coating the food with a thin layer of oil. 
The high temperature used in the air fryer can easily and quickly melt the plastic. The melted plastic can cause a great mess in the air fryer, and may also cause huge damage to it, other than leaching bad chemicals into your food.
Solid Reasons behind not using plastic in an air fryer – Just Give a Quick Read
The melting point of plastic:
There are numerous types of plastics available and used in the manufacturing of plastic containers. The melting point of different plastics can drastically differ from one another. But most of the plastics used in food storage containers will melt at a temperature above 130 degrees Celsius.
Leaching of chemicals:
Even if your plastic is of high grade, it might withstand the high temperature and not melt but, it will surely start slow leaching of the chemicals after a certain temperature. The chemicals used in plastic are often harmful to humans, and its leaching in food or food material is found unhealthy.
Some plastic bowl alternatives that can be used in an Air Fryer:
– Metal bowls
These are great to use especially, in the air fryer. Metal like stainless steel is popularly used incompatible air fryers and are safe to use at high temperature.
– Air fryer basket
These are commonly made available with the air fryer and are perfect for use. You can also buy a basket made with stainless steel.
– Perforated Parchment Paper
This PPP can be used in the air fryer basket. It can prevent certain chemicals from entering into the food.