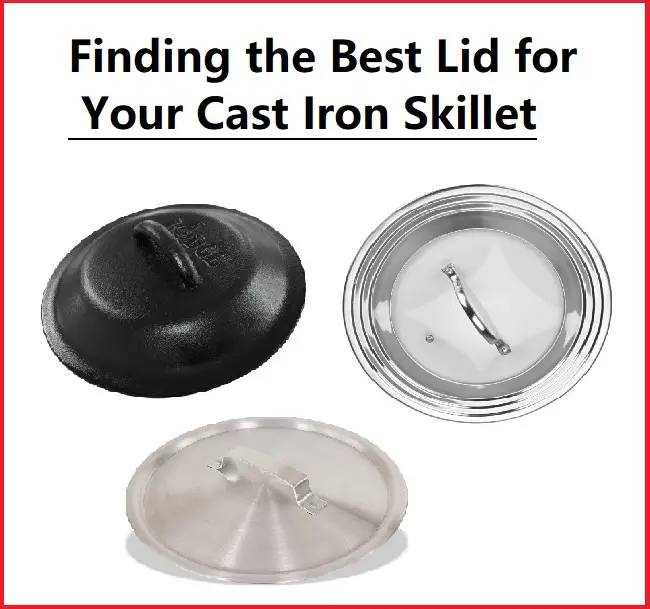 A tightly-fitted lid is all you want to increase the functionality of your cast iron skillet. Whether you want to buy the best lid for cast iron skillet, or just need to replace it with a durable and compact cover, I got you covered. Here is a well-researched list of 10 best fitted, non-toxic, and heat-safe lids for cast iron skillet with sizes of – 6", 6.5", 7", 8", 8.5", 9", 10", 10.25", 10.50", 11", 12", 12.5", 13", 13.5", 14" and 15". I have handpicked each of them after analyzing their durability, engineering, and review on the market.
Top 10 Safe & Durable Lids for Cast Iron Skillet
Elocution Store Universal Tempered Glass Lid for 6 inch, 7 inch, 8 inch Cast Iron Skillet
The Elocution Store has brought us this universal tempered glass lid for sizes of 6 inch, 7 inch, and 8 inch. From your cast iron skillet to saucepans, woks, stockpot, etc anything with the same size can be covered with this lid. Other than the tempered glass construction which is more durable than normal glass, the silicone in the rim clings to your pan, creating a tight fit. This allows you to cook faster while locking in all the moisture and juice.
However, having a steam vent to release excess pressure, I believe is a must-have. And this Elocution cast iron skillet lid has exactly the same. This steam vent will stop accidental spill-overs from happening. Moreover, the lid is dishwasher-safe. Let's talk about this beautiful handle – it is very convenient to use than the one with knobs. Knobs tend to slip a lot, but this gripping handle is a wise addition to the lid. Overall, keeping the price point in mind, this is a very affordable lid to have with such great features.
Con: It is not oven-safe.
Cuisinel Store Stainless steel, tempered glass lid oven-safe for 8 inch, 10 inch, 12 inch
This Cuisinel Store dishwasher and oven-safe cast iron skillet lid are also universal. You can use it with any of your pots and pans having the same size. The covers offered by Cuisinel are 8 inch, 10 inch, and 12 inch. The thermal reinforced tempered glass is far better than a normal glass lid. The stainless steel in the rim makes this lid more durable than the Elocution lid. You can use the cover for cooking, baking or refrigerating. It can tolerate heat up to 350 degrees F.
This compact model comes with a silicone knob, which I am not a fan of. Yes, silicone knobs are comfortable, but somehow, I prefer the easy gripping ones. The screws which help in attaching the knob in its place are rust-proof. Overall, this is a convenient option in its price-point.
Con: No steam vent added to the lid.
Wish Store Stainless Steel, Tempered Glass Cast Iron Skillet Lid 8.25" to 12.5"
This Wish Store tempered glass lid is ideal for cast iron skillet ranging from 8.25 inches to 12.5 inches. As the lid is flat and wide up to 13.3 inches, you can use it on several sizes of cast iron skillet and other pots and pans as well. Certainly, on a 9 inch cast iron skillet, it will look bigger and in a 12 inch, a perfect fit however functionality wise it can surely lock in all the moisture because of the flat look.
The rim is reinforced with an extremely durable 304, BPA-free stainless steel. The lid is oven-safe up to 428 degrees F. The silicone knob is detachable for easy cleaning. The lid is dishwasher safe and has a steam vent to release extra pressure and avoid sudden spilling. Overall, this is the best lid for cast iron skillet if you are looking for a durable, non-toxic, and heat resistant model.
**It is not a fit for skillet with a raised handle.
Con: There is no con as such. However, because of the modern flat shape in many pots the lid sinks a bit lower. But if you want to use it just for your cast iron skillet then this will not be an issue.
Lodge Pro Lodgic Cast Iron Lid for 8.5 inch, 9 inch, 12 inch, 13.5 inch
This lid is made from cast iron hence extremely durable in nature. It only fits the cast iron skillets from Lodge. So, if you are looking for a lid to go with your lodge cast iron skillet, these are the best choices. Another important point is that the lid is self-basting which means it is already pre-seasoned and ready to use. The strong cast iron made handle is very firm to grip and perfect for handling this heavy lid.
The 8.5 inch, 9 inch, 12 inch, and 13.5 inch lids are all manufactured in the USA. The company recommends you handwash the lid. Overall, this is an expensive pick, I will say. If you want a highly durable lid and when I say high, I mean HIGHLY durable lid then this cast iron lid is invaluable. However, if your budget doesn't permit and you want something lightweight the next lid in the list might fit your criteria.
Lodge Tempered Glass Lid  8", 10.25", 10.50", 12", 15"
Other than the cast iron lid, Lodge also offers a tempered glass lid for cast iron skillet and their Dutch oven line. The lids are round in shape and made from tempered glass lids. The rim is of stainless steel. There is a steam vent is each of the lids. The 10.25-inch lid is also available in a square shape. They are dishwasher-safe and oven-safe up to 400 degrees F.
Cook N Home Tempered Glass Lid 8", 9.5", 10", 11", 12"
This lid has a good old design and no added fancy stuff. It is inexpensive and ready to use. The tempered glass lid is durable and heat resistant. It has an oval shape that fits perfectly into your skillet without letting the moisture slip out. The stainless steel rim gives it an added strength. 
Thankfully it comes with a steam vent, that helps you in releasing the extra air pressure while cooking. This will avoid accidental spilling. This convenient lid for cast iron skillet is available in 8 inch, 9.5 inch, 10 inch, 11 inch and 12 inch. These lids are oven-safe up to 350 degrees F and dishwasher-safe. However, handwashing is the most suitable thing to make your lids long-lasting.
Con: The knob is made of metal which gets hot sometimes during cooking.
Cleverona Clever Cast Iron Skillet Lid 7", 8", 8.5", 9.5", 10", 11", 12", 12.5"
Cleverona offers a cast iron skillet lid in varied sizes. These lids are lightweight and easy to handle. Silicone-made rims make this tempered glass lid fit perfectly on pans and pots. As this is a universal lid you can use it on several same-sized pots and pans.
The knob is also made of silicone hence it will not get hot while cooking. This heat-resistant lid has a convenient steam vent to release pressure. It is also dishwasher-safe.
Alpha Living Tempered Glass Lid 7" – 12"
Alpha living offers one lid that will fit your cast iron skillet of 7 inch – 12 inch. The tempered glass lid has a wide stainless steel rim. The stainless steel used in the rim is of 304 grade hence durable and corrosion-resistant. The lid also has a steam vent. The stainless steel riveted handle looks classy and ergonomic in nature too.
The lid is dishwasher-friendly and the tempered glass lid is highly heat-resistant. However, the lid is flat in shape to fit perfectly on this wide range of sizes. On a 7 inch skillet it might feel big (moistures will be locked in well) and on a 12 inch, it will seem to have a perfect fitting. But if you want to minimize clutter and save space, you can have this universal lid to fit on a wide variety of cookware.
Victoria Glass Cast iron skillet Lid for 6.5", 8", 10", 12", 13"
This simple glass lid from Victoria is available in various sizes to fit your cast iron made frying pan, skillet, or any pot. The stainless steel rim is corrosion-free and heat-resistant. It perfectly locks in all the moisture while the steam vent is useful in releasing boiling pressure. The stainless steel ergonomic knob is effortless to handle and cool to touch while on heat. The lid is dishwasher and oven safe.
Con: The glass is not tempered and the knob is not dishwasher-safe.
Carlisle Paddles Aluminum Lid 7", 8", 10", 12", 14"
Although Carlisle offers this aluminium lid for their own line of frying pans and skillet, this lid can be a perfect fit for your cast iron skillet. This self-basting lid is manufactured from 3004 aluminum which is durable and heat resistant. The welded handle is ergonomic in nature and long-lasting. As the lid is lightweight, it is very useful for beginners. Moreover, the lid is NSF certified.