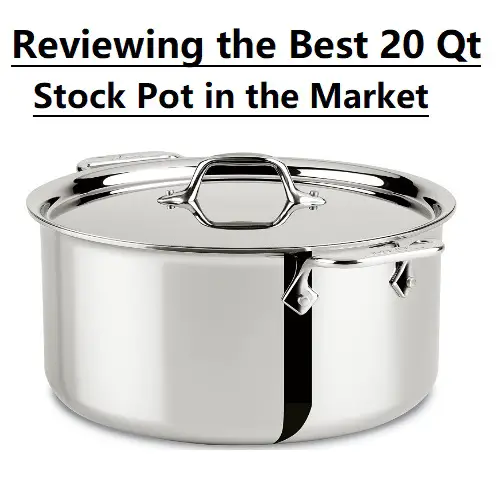 Gone, are those days when a good quality 20 quart stock pot can be bought cheap. Then again, those cheap products consisted of toxic or carcinogenic metals, which we were hardly aware of. But now we know better. And while searching for the best 20 qt stock pot in the market, I have carefully analyzed all my options and picked the top 5 of them to share with you. These stock pots are somewhat expensive, the last one is affordable, but most importantly these are safe, well-engineered, and highly useful. I call this type of cookware, worthy investments. Because why not? We are spending quite a fortune on cookware and each penny must be well-spent.
Here is my list of best 20 quart stock pots.
1. UPDATE INTERNATIONAL 20 QUART STOCK POT  
The Update international professional-quality 20-quart stock pot tops this list because it is NSF-certified, has a beautiful brushed stainless steel finish, and strong riveted handles with an induction-ready durable body.

When you invest in an NSF certified product, you know you are doing the right thing for the health of your family. The stock pot is made with brushed stainless steel and the bottom has a heavy-duty 3 ply construction. Between the two layers of stainless steel, there is an aluminum core inside.
This 3 ply construction helps in distributing the heat quickly and evenly, which also prevents food from sticking. The pot is oven and dishwasher safe. The lid fits tightly and lets no moisture to come out. The 20-quart stockpot has a rolled edge which ensures easy pouring of food.  
The stainless steel is non-reactive to the food so the taste of the food doesn't change. The handles are ergonomic that's why it can be securely lifted and transported from counter to stovetops. The aluminum core allows for superior heat distribution.   
Overall this stock pot's construction is sturdy, classy, and invaluable, hence according to me the best 20 quart stock pot in the market to invest in. Except for 20 quarts, the company also provides stock pots in 8-quart, 12-quart, 16-quart, 24-quart, 32-quart, 40-quart, 60-quart, 80-quart, and 100 quarts.  
PROS  
Induction friendly.  
Well built  
Superior heat distribution  
Non-reactive to food  
NSF listed stock pot  
Rolled edge  
CON
The lid is not NSF certified and the pot does not come with a warranty.
2. HOMICHEF 20 QUART STOCK POT
This best 20 quart stock pot from HOMI CHEF has high heat tolerance as the 7MM thick base is undeformable, not prone to warp, and spreads heat quickly and evenly without creating any hotspot. Hence it is perfect for making delicious stocks, stews, etc. Clearly, sticking food will not be an issue.
The beautiful mirror-polished body, matt finished interior, strong riveted handles with a tempered glass lid and steam vent make it a desirable piece both in the kitchen and dining table. Constructed from safe nickel-free stainless steel, Homichef claims the product saves 12-15% energy compared to a nickel-bearing stainless steel stock pot.
Also, nickel has a very upper position in the ATSDR list, so when you are using this nickel-free Homichef 20 quart stock pot daily, you stay assured of keeping your family's health safe.

The bottom of the pot has a 3-ply construction. A thick aluminum base is sandwiched between two layers of stainless steel. Overall, it has high quality and safe build. From a beginner to the expert chef, this stock pot will help you to cook/boil lobsters, crab, simmering stocks, and soups in large quantities. The stockpot is compatible with gas, induction, glass, ceramic, and halogen stovetops. It is also oven and dishwasher safe.  
The product comes with a lifetime customer service and a 1month repay trial period. Except for 20-quart, 16-quart size stock pot is also available.   
PROS  
Tempered glass lid  
Thick base  
Nickel-free stainless steel  
Oven and dishwasher safe  
Induction friendly  
Lifetime customer service and 1 month refund period  
 
CON
I haven't find one.
3. COOKS STANDARD 20 QUART STOCK POT
Cooks Standard is a reliable and experienced cookware brand. They are manufacturing stock pots for ages which helps them to bring the best in the market. If you are looking for a highly durable stockpot, that is easy to clean, safe to use daily and can be carried comfortably when filled, then this is your product.
Stuck-on food is a common issue while using a stock pot. Some users have got used to it. However, if you have a highly efficient stock pot like this 20 quart one from Cooks Standard, I am sure you have enjoyed making stocks more than ever.
The body is made with 18/8 brushed stainless steel, and an aluminum-made disk is layered in the bottom, to distribute the heat evenly. I am guessing as the aluminum disk spreads the heat well, the food doesn't stick in the bottom. There is no artificial or chemical non-stick coating.
Cook standard 20-quart classic stainless-steel stock pot is ideal for making soups, stews, pasta, stocks, and more. The stock pot is induction compatible. The product can be also used on gas, glass, electric, ceramic, halogen, etc. It is oven safe and dishwasher friendly.  
The handles of the stock pot are made up of stainless steel which is highly durable and always stays cool. The stock pot comes with a solid stainless-steel lid. The lid is tapered which helps in the easy pouring of food. The riveted handles make it easy to carry a huge amount of food when filled. The tight lid helps in controlling the moisture. Except for the 20-quart cook standard company also provides stock pot in 8-quart, 11-quart, and 30-quart.  
PROS  
Oven safe up to 500 degrees F
Dishwasher friendly  
Induction safe  
Tapered lid  
Multipurpose function  
Rapid heating  
CON:
I like this 20 quart stock pot a lot but my only gripe is that it does not come with a warranty.
4. WINCO USA 20 QUART STOCK POT  
If you don't need a fancy looking stock pot and just want something useful and durable, then Winco offers you a durable and the best 20 quart stock pot made of 3000 series aluminum. As the product is completely made of aluminum it is excellent for even and rapid heat distribution. This stock pot is NSF certified too. Hence a great pick to invest in.
The handles are very thick and sturdy and are very comfortable to carry from one place to another. The product is perfect for braising meats and vegetables, making soups, pasta, stocks, and stews. Maintenance of this stock pot is low as aluminum does not need too much care.
The edges of the stock pots are heavily invigorated. The top of the stock pot is much thicker which prevents the top from warping out and also prevents dents. The deep interior makes it easy to stir the food.
The stock pot is incredibly durable. The heavily built bottom can stand up to any amount of weight. However, the stock pot does not come with a lid. The product is scratch-resistant and manufactured in the USA.  
PROS  
NSF certified stock pot  
Heat distribution is fast and even  
Scratch-resistant  
Extremely durable  
Brushed finish  
CON
No lid is added.  
5. IMUSA USA 20 QUART STOCK POT 
Imusa USA 20-quart stock pot, made in India is ideal for those who are looking for a budget stock pot. It has an average quality built, but as the entire body is made of stainless steel, the product is fairly durable. The outer finish looks classy because of the shiny stainless steel. However, after some wash, the luster might not be the same.
The stock pot is big enough for boiling lobsters or tons of corn. It is very lightweight than the previous 4 as the bottom does not have a 3-ply construction.  The wide interior of the stock pot makes stirring easy. 
Stainless steel provides fast heating that's why the food gets ready quickly. But obviously not as fast as aluminum. The stock pot comes with a lid that preserves the nutrients and flavors inside the stock pot.
The lid fits tightly to the stock pot. The stock pot has double-sided metal handles which makes it easy to lift the stock pot. Overall, it gives a reliable cooking result. Except for 20-quart the company also offers the stock pot in 8-quart, 12-quart, and 16-quart. 
PROS 
Highly durable 
Fast heating 
Easy cleaning 
Double-sided metal handles 
Wide bottom 
Tightly fitted lid 
CON
 Durability can be a concern.