Granite cookware, also known as graniteware, is a kind of enamelware. Despite the word 'granite' in its name, it isn't made from granite. The name comes from its speckled or mottled appearance.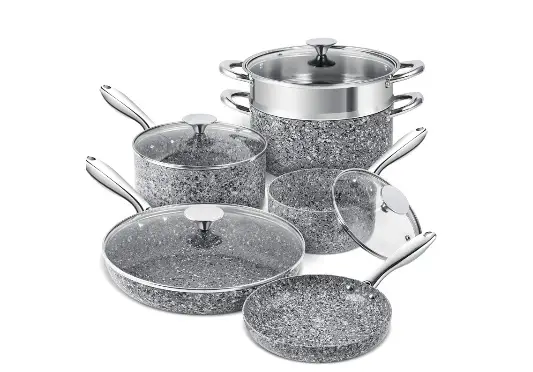 It first came into use in Germany in the late 1700s. This was when the experts invented the procedure of fusing glass coatings to metal bases at a high temperature (2000°F). During this time, it was used on cast iron pieces to offer them a smooth texture. The popularity of the method spread to Europe before it eventually reached the USA.
At present, the manufacturers apply the porcelain enamel or glass coating on stainless steel, carbon steel, or aluminum alloy. It leads to a glossy surface that is non-porous and inert by nature. The modern granite cookware is thinner and lighter compared to the older versions that were heavy and thick because of their cast iron core.
The Pros and Cons of Granite Cookware
Pros:
It does not get damaged from rust.
The porcelain coating being inert does react to acidic food items.
Granite cookware is lighter than cast iron cookware.
It does not have to get seasoned to become nonstick.
High-quality graniteware is free from harmful chemicals like cadmium, lead, PFOA, and PTEE.
Carbon steel or aluminum cores are great conductors of heat, letting you cook faster and better.
The glossy and smooth surface of granite cookware is pleasing to look at and easy to clean.
Cons:
The coating on granite cookware is delicate and prone to chipping.
The modern granite cookware has thinner cores that lead to poor heat retention, unlike the old ones that have excellent heat retention.
It is the kind of cookware that isn't as non-stick as perfectly seasoned cast iron or Teflon-coated pans. Graniteware prevents food from sticking to the bottom, but you will get better results when you use a little bit of oil.
Top 5 Brands That Offer Best Granite Cookware
The pros surpass the cons in the case of granite cookware. So, if you are planning to purchase granite cookware, here are the brands you can consider.
1. GraniteStone Cookware
GraniteStone Cookware is undoubtedly one of the top brands in manufacturing high-quality graniteware. The brand came into existence to serve the gap in the market with regard to fine granite cookware. It wanted to address the issue of cookware lacking the durability to survive the intense heat of broiling, searing, and more. Its popular range of cookware shows that it has reached its aim. The durable cookware from GraniteStone also comes at an affordable price.
The ultra-nonstick surface of the pan is coated three times with premium minerals and reinforced with diamonds. It will enhance your cooking performance, make food flipping, release, and tossing easy, and no butter or oil is required for healthy cooking.
2. Ozeri
Another trusted name in granite cookware, Ozeri is a specialty manufacturer of lifestyle products for the modern home. It began its journey as a supplier of novel houseware products for the hospitality markets and destination resorts. It has branched into serving modern residences with the finest kitchen and personal amenities. The toxin-free, high-quality granite cookware made by Ozeri comes under its 'Healthy Living' product category.
This bestseller from Ozeri is made from a stone-based coating from Germany that is completely free of all kinds of toxins. The heat-resistant silicone coating, nonstick surface, and scratch-proof surface are other major reasons for its popularity.
3. Waxonware
Waxonware was established on the premise of building a customer-oriented cookware brand. The brand started by taking a closer look at the market conditions. To do that, they analyzed for more than five thousand reviews on different products and studied kitchenware companies across the world. Waxonware spent over $200,000 and more than three years on its research. This research gave them insight into the kind of quality granite cookware that the customers are looking for.
The five-layer ceramic nonstick pan coating maximizes food release minus the hassles you faced with traditional frying pans. The eco-friendly and non-toxic quality, coupled with its dishwasher-safe and lightweight construction, makes these pans a must-have in your kitchen.
4. MasterPan
MasterPan was established when the founders felt tired of paying sky-high prices for quality kitchenware and cookware. They felt that the cheaper goods sold in some of the high-end stores were not up to the mark in terms of quality. So, they decided to design, source, and make their own products with the aim of delivering quality and affordability. They make their products pass the test conducted by professional chefs, along with following the strict standards of the FDA.
You would get years of use out of this ultra-nonstick and scratch-resistant product by MasterPan that comes with two layers of Masterlon coating. It is dishwasher safe and is a great choice for those who want minimum oil and maximum taste in their dishes.
5. Ballarini
Since 1889, Ballarini has been one of the leading manufacturers of pots and pans. Paolo Ballarini opened his craft workshop in RivaroloMantovano in 1889 and produced articles like kitchen utensils, lampshades, and birdcages. The business that had such a humble beginning soon expanded and, after last for decades, entered the new millennium. In the sixties, the company produced the first nonstick pans.
Thermopoint technology ensures precise temperature control and reduces unnecessary damage and overheating. This popular granite cookware from Ballarini has a cold-forged body that delivers efficient heating throughout the surface of the pan.
Endnote
And that's it! This was all the information you need to decide whether to buy granite cookware and which one to go for. It is time now to set your budget and look at the top brands mentioned above to buy a new pan.