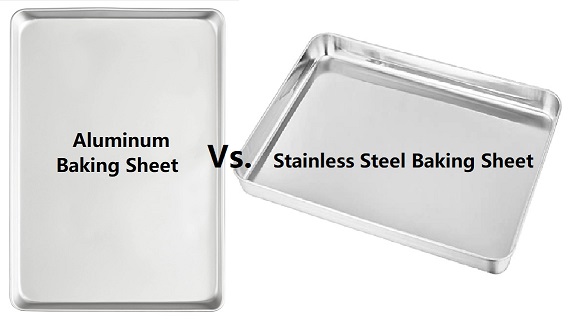 In the baking industry, choosing the right baking sheet can make a world of difference. Pick the wrong bakeware, and you will be left with cookie dough sticking to the bottom. But bring home the ideal baking sheet and let the smell of freshly baked cookie refresh the atmosphere of your house. 
As a beginner, the plethora of options available in the market can confound you completely. Unless you know the specific differences between various baking tins and baking sheets, it is almost impossible to choose one. Mostly I have observed that home chefs struggle to choose between aluminum and stainless baking sheets.
This article will tell you everything you must know to take your pick between aluminum vs stainless steel baking sheet. Don't forget to read through this guide thoroughly before you head out to buy a new baking sheet.
Features of an Aluminum Baking Sheet
Aluminum baking sheets are a piece of classic equipment found in several commercial and home kitchens. It is an excellent conductor of heat, which makes it a strong contender for baking equipment. It is also rust-proof and inexpensive. Aluminum is the third most abundant element in nature, which explains its affordability. Since aluminum sheets are incredibly lightweight, many home cooks and professional chefs prefer them.  
Advantages of Aluminum Baking Sheet
The most significant advantage of an aluminum baking sheet is its ability to conduct heat.  Equal heat distribution helps in even baking. Aluminum made baking sheets are highly heat resistant too. In fact, you will find aluminum pans that can withstand 450-degree Fahrenheit when placed inside a boiler. Clearly, aluminum sheets will be durable hence apt for everyday baking.
These baking sheets are available in a variety of sizes. Home bakers prefer buying multiple sizes to set up a small home bakery. These sheets are also easy to clean. This ensures that the post-baking mess can be cleared up quickly without much hassle.
Disadvantages of Aluminum Baking Sheet
The shiny appearance of the aluminum baking sheet can prevent browning the food evenly. If you end up purchasing a low-grade aluminum baking sheet, be prepared for some metallic taste seeping into your cookies and roast. It is also prone to 'pitting' — you may notice small corroded spots on the surface. With continuous usage of an aluminum baking sheet, be prepared to notice a grey substance sticking on the tray. It can be extremely challenging to get rid of this residue even after multiple washes. The commercial quality aluminum baking sheets are the best. They do not have these issues. The Nordic Ware Commercial Aluminum baking trays are the most preferred on the market when you are going for regular and safe baking.
Additionally, aluminum baking sheets are not naturally non-stick — you need to add parchment paper or silicone baking mats or use a safe cooking spray before you start baking.
Features of Stainless Steel Baking Sheet
Stainless steel baking sheets are a hero in both commercial and domestic kitchens. They are popular for their ability to conduct heat very well. These baking sheets are incredibly durable and scratch-resistant. These sheets are composed of an iron-based alloy with traces of chromium, making them very strong. You can place a stainless steel baking sheet safely inside a boiler as well as a dishwasher.
Advantages of Stainless Steel Baking Sheet
The chief advantage of a stainless steel baking sheet is its ability to absorb heat and distribute it.  You can also clean these baking sheets without much hassle. Since steel is non-reactive, you can bake practically anything on this sheet without any fear of leaching or any adverse reaction.
These pans are also non-toxic and safe even when you are baking cookies for your kids.
Disadvantages of Stainless Steel Baking Sheet
A huge flaw is that these baking sheets are not non-stick. You will need to line the sheet with butter or parchment paper before you bake. You may also experience discoloration of the baking sheet over time. Sometimes users have also experienced baking sheet bending at high temperatures. Always use a good quality, heavy-duty stainless steel baking pan like this from Checkered Chef.
Aluminum Vs Stainless steel baking sheet: Safety Concerns
Whenever I discuss picking between stainless steel cookie sheets vs aluminum sheets, the health concern inevitably pops up. It is not surprising that many home chefs make their decisions based on the health risks associated with a particular material. 
There have been various news reports that link aluminum to Alzheimer's disease. Experts also believe that using aluminum cookware or bakeware for a prolonged duration increases the risk of aluminum leaching. Continuous exposure to aluminum can be toxic for our nervous system and increase breast cancer chances in women.
In contrast, high-quality stainless steel baking sheets are incredibly safe. Therefore, make sure that you don't purchase a poorly built stainless steel baking sheet. Such baking sheets can leach nickel in your food, leading to metal poisoning. 
Aluminum vs. stainless steel: Cleaning and Durability
Aluminum Baking Sheet: Cleaning:
The best way to clean an aluminum baking sheet is with dishwashing soap and hot water. If there are any stains from baking, you can gently scrub them off with a scouring pad. In case you notice discoloration in the baking sheet, boil it in water for 10-20 mins.
Most aluminum baking sheets are not suited for dishwashers. Putting the baking sheet in the dishwasher can result in pitting and corrosion. I would not recommend washing aluminum baking sheets in the dishwasher even though the manufacturer claims that it is dishwasher safe.
Durability:
When it comes to durability, high-quality aluminum baking sheets will last you an incredibly long time. Since aluminum baking sheets are relatively cheaper, you can even purchase multiple sheets without too much pocket pinch.
Stainless Steel Baking Sheet: Cleaning:
For stainless steel baking sheets, use normal water and mild dishwashing liquid to thoroughly clean the surface. If there are any stubborn stains, you can apply vinegar mixed with lemon juice. 
You can wash stainless steel baking sheets in a dishwasher without any worries. Since steel is an alloy, it is corrosion-resistant in damp environments. However, make sure to opt for gentle dishwashing detergent instead of any abrasive chemicals.
Durability:
Stainless steel is basically an alloy of iron, chromium, nickel, and various other elements. This enhances its durability. These baking sheets will last you a lifetime, provided you follow the necessary steps to take care of them.
Final verdict:  Aluminum or Stainless Steel Baking Sheet – Which is the best for you?
Choosing between stainless steel cookie sheet vs aluminum sheet is not entirely straightforward. While aluminum ranks better from a price point perspective, stainless steel scores more in the safety department. 
Unless you are absolutely sure about an aluminum baking sheet's high-quality, I would advise you to opt for a stainless steel one. Those are very durable and extremely versatile. It is also rust-proof and stain-proof.
In case you are looking for something relatively inexpensive but highly useful for baking, you can buy an aluminum baking sheet. To avoid any unpleasant aluminum leaching, make sure that you inspect the baking sheet's construction. But from a health perspective, avoiding aluminum baking sheets seems like the ideal thing to do.
Regardless of the above, if you are using an aluminum baking sheet, steer clear of any acidic ingredients to minimize the chances of any reaction chances. With a stainless steel baking sheet, you can use any ingredient without worries.  So apart from making baked goodies, you can also roast tomatoes without facing any issues. 
I hope this guide helps you to make the right choice between these baking sheets. I hope you enjoy baking and whip up mouthwatering delicacies for your loved ones.